The management team of Growel Agrovet Private Limited is highly professional and very much concern & caring about the quality of poultry feed supplement, pet supplements & cattle feed supplements, profitability of the livestock farmers and ethics of veterinary profession.The key people of the management are: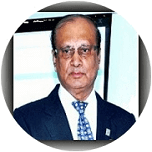 Dr. RNS Gowda (Director- Research & Production)
BVSc, MVSc, Ph.D, FIAVP, FNAVS, FIPSA, Diplomat ICVP.
Ex. Vice Chancellor of New Karnataka Veterinary, Animal, and Fisheries Sciences University, Bidar.
Ex. Director of The Institute of Animal Health and Veterinary Biological in Bangalore.
Dr. RNS Gowda is heading our production department and looking after production, overall quality management & new products development.
The love for animals and concern for the quality of animal health care products, made him take up the study of animal sciences and has excelled him a niche in the hearts of livestock and poultry farmers and the veterinary profession in the country. He is now, the man at the helm of affairs, of the teaching, research and the administration of the temples of learning connected with all forms of animal life in the country.
He has very much concern about the quality of Poultry Feed Supplements, Animal Feed Supplements & Animal Healthcare Products, which is affecting overall profitability of livestock farmers.
Email: gowda@growelagrovet.com
Mr. Rakesh Kumar ( Founder & Director-Marketing)
Mr. Rakesh Kumar is taking care of domestic , international & online marketing, advertising & marketing communication, products development. All sales & marketing, production & products development part is taken care by him.
Rakesh Kumar has dedicated his life for the welfare of livestock community . He is also a animal husbandry consultant,author,blogger & writer .His article is published in many national and international journals & magazines. The main objective of his write-up is to educate the livestock community and make them prosperous.
Email: rakesh@growelagrovet.com
Mr. Onkar Nath (Managing Director)
Mr. Onkar Nath is an NRI . He has also interest in real estate & shipping industry. He is the Managing Director of Growel Agrovet Private Limited. He is looking after finance , production & administration related matters.
Email: onkar@growelagrovet.com
Apart from these key members of the company, the operations of Growel Agrovet Private Limited is supported by dozens of veterinarians, chemical engineers and bio-technologist.